Mar 2, 2009
The new blog will have many new features... AND you can subscribe to it to keep updated with all of the new things I will be doing.
Posted at 03:47 pm by miketurner
Permalink
Feb 14, 2009
Mike Turner Photography senior model, Michelle
Michelle is a fascinating girl with a lot of charm. She loves to read, so we are going to try to shoot some of her senior pictures in a library. What I have envisioned is really cool, so I really hope the library staff will let us do it. I bet they will.
Posted at 10:44 pm by miketurner
Permalink
Feb 12, 2009
I'm so happy to have Karly as a senior model this year!
Karly has some great ideas for her senior pictures, and I can't wait to photograph her more this summer. We talked about ideas, and I am very excited... especially about our "singing in the rain" shoot!
If you know her, ask her about getting 16 free wallets when you do your senior pictures at Mike Turner Photography. She can hook you up.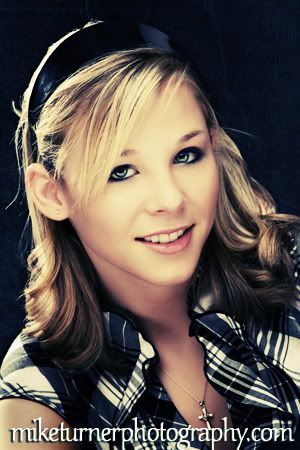 Posted at 12:37 pm by miketurner
Permalink
Feb 9, 2009
2010 Senior Model, Christopher
In the past, guys have only been a very small part of my senior business. That's not by design, it's just been that way. I think it's because I have had female models, and... girls just typically refer girls.
So, I am pretty excited to have Christopher on board with this years senior model program. I have a lot of cool "guy ideas" for shoots, and with his help I will hopefully get to do many of them this year.
Posted at 08:52 am by miketurner
Permalink
Feb 8, 2009
Meet Alise - 2010 Senior Model
Alise is in the school band, and on the swim team. If you have ever seen the "fly" pic on my website, then you know I love doing cool shots that incorporate the seniors interests. I can't wait to work with Alise more this summer!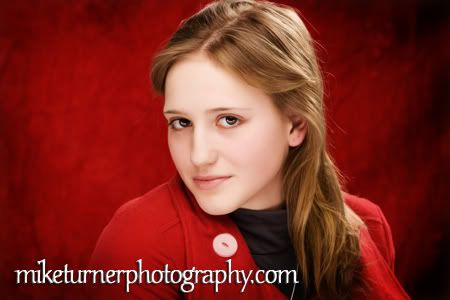 Posted at 01:11 pm by miketurner
Permalink
Jan 2, 2009
Going to bed early... I have to get up at 4:00am to head to the airport.


I'm going to the best senior photography convention there is!
I'm so excited!

I'll be back Thursday, so if you message or call me... please be patient.

Posted at 09:31 pm by miketurner
Permalink
Dec 26, 2008
Just one more week to go!
Just one more week & I am off to Las Vegas for the best senior photography convention in the country! SPA Event 2009 at The Rock! http://spartists.blogs.com/spa_at_the_rock_2009/spathe_journey/index.html
And, I have been asked to be a group leader for the event. Basically, that means I will have a small group of photographers that I will help to "feel a part of the SPA family."
I'm really excited. SPA Event is a great place to be educated and inspired by the best high school senior photographers in the country. I'm honored that they would ask me to be a part of making that happen, even in a small way.
I can't wait!
Posted at 11:26 pm by miketurner
Permalink
Dec 23, 2008
Tonight, I booked a senior photo shot that I am really excited about. Serenity is coming all the way from Orleans, Indiana for me to shoot her senior pictures. That is almost 2 hours away! I feel so honored that someone would drive that far for me. I am feeling pretty proud right now.
Posted at 10:36 pm by miketurner
Permalink
Dec 16, 2008
Something a little different for me.
My feelings have pretty much been that I would rather try to be the best at one thing (senior pictures) than to try to dabble in many things and end up mediocre at them all.

However... every once in a while a good friend will ask me to do something special just for them. I don't mind stepping out of my comfort zone, especially for a friend. Pretty much the only thing I absolutely won't do is a wedding. Some photographers really enjoy them, but I don't.

Anyway... Josh & Teri wanted to get some engagement pictures done. To tell you the truth, I was a little nervous about it. I put a lot (probably too much) of pressure on myself, and I don't want to disappoint anyone.

I think they are happy. This is my favorite of the set. It just looks like "art" to me haha.
http://miketurnerphotography.com/
Posted at 07:20 pm by miketurner
Permalink
Dec 15, 2008
My newest Class of 2010 Senior Model, Megan
Some people just have "it". I knew I wanted to hire Megan as soon as she walked in the door. She also scored some major brownie points with me when I asked what her interests are and the first thing she said was singing. I love to sing and I love singers. I didn't want to put her on the spot (like I did to her class of 2009 friend Stephanie haha) but I sure hope I get to hear her sing someday.
Contact me at http://miketurnerphotography.com/ for more info on my Senior Model Program.
Posted at 03:30 pm by miketurner
Permalink